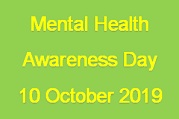 On Thursday 10th October as part of our on-going support for pupil and staff well-being and mental health awareness, we are joining in with Mental Health Awareness day.
We are asking staff and pupils to wear something yellow to show our support and classes will be focussing on the importance of talking about how we feel, how to look after ourselves physically and knowing what to do if you feel worried or anxious.
Classes will be sharing their activities via their class blogs.
Tags: 2019-20