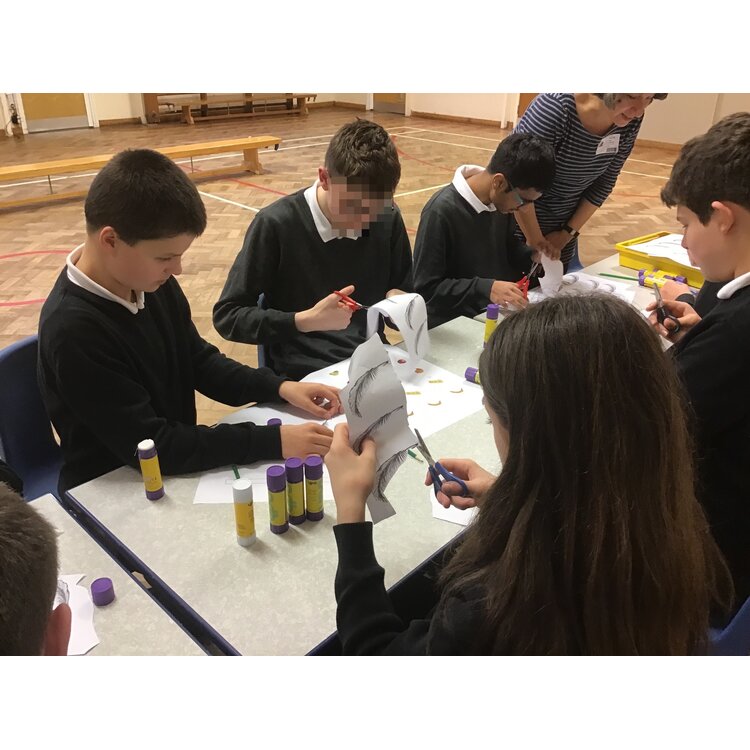 Wow this week has gone by in the blink of an eye and we are now half way through this half term already!
It has been World Religion Week in school this week so we have been taking part in different activities that are Jewish themed. On Friday last week we were very lucky to have Amy come into school to visit us to talk to us about being Jewish. She shared some prayers in Hebrew with us and talked to us about Jewish customs and traditions that she follows. Before we went we got to complete an art activity in small groups, practicing our fine motor skills of cutting and sticking.
Some of the other activities we have taken part in are:
-Learning about the story of Hanukkah and why Jewish people celebrate this festival
-A cooking activity involving decorating doughnuts as doughnuts are fried in oil, and Jewish people like to eat foods fried in oil during Hanukkah
-An art activity making a picture of the Menorah candles, like the one from the Hanukkah story
Let's have a look at what else we have been doing in 10G this week…
On Monday morning it was Group 1's day to go shopping with Mrs Fisher and Miss Holliday. They walked to Asda in the freezing cold and worked on using a list and pushing a trolley safely, as well as keeping ourselves safe by linking arms with a staff member when we are out of school in the community.
Mrs Cobham, Miss Patterson and Miss Smith stayed in class completing some Maths PLG themed activities including digital time, counting objects and exploring money.
Tuesday morning was Group 2's turn to shop at Asda accompanied by Mrs Fisher and Miss Smith. We practiced saying when it was safe to cross the road whilst walking there and back, as well as using zebra crossings and pedestrian crossings safely too. In Asda, we split into groups to find the items on our lists and learnt about the aisle names and numbers and how they give us clues as to what items live on those aisles.
In the meantime, Mrs Cobham, Miss Patterson and Miss Holliday were back in class with the rest of 10G's learners and were working on English PLGs such as answering questions about what we have read, completing tasks independently in the workstation and practicing writing and typing our sight reading words.
It was our next Online Safety lesson on Wednesday morning where we were continuing our work on identities and sharing information online. We split into groups to look closely at three examples of profiles that someone might create on social media platforms or gaming sites and looked at the information that was being shared. It was very interesting to hear everyone's opinions on which information it is safe or unsafe to share online, and this led to another discussion about public and private profiles. Meanwhile, some of our learners were practicing their independence skills in the workstation and perfecting their signing and communication skills outside of the classroom.
Wednesday afternoon was PE in the hall and interventions in class. Learners enjoyed playing a social skills board game in class with Miss Patterson and Mrs Cobham, while Miss Patterson, Mrs Fisher and Miss Holliday were in the hall. PE Group 1 were moving on from bouncing the ball individually to throwing and bouncing the ball to a friend accurately. To add more challenge, we took a step back once we had mastered throwing and catching from a certain distance.
Group 2 were learning about defending and attacking, this week we were focusing on marking our opponents. It was tricky to remember to stay close to a member of the other team, but by the end game of netball, everyone was showing much more improvements.
Thursday afternoon, Mrs Linde and Mrs Anderton were in class to teach us more Science. We are carrying on looking at forces and the different ways we use forces in our day to day lives.
On Friday morning Group 4 went to Asda with Mrs Fisher and Mrs Kelly. Both pairs got to pick their own Friday treats for the afternoon and Mrs Fisher was even conned into buying a bottle of Prime drink, after much persuasion from Jacob, Danny and Tyler! We are saving it to try in class on Monday and will be comparing it with Asda's fruit water to see if there is any difference in taste (as there definitely was in price!). Mrs Fisher has sent a message out to all parents/carers regarding this, please get in touch if you do not want your child to try the Prime drink.
Our Star of the Week in 10G this week is Eshan! Eshan has shown super improvements in using his white cane when accessing the community, as well as a more conscious participation in group discussions and conversations. Excellent work Esh!
Enjoy your weekend and we will see everyone back in school on Monday!
Mrs Fisher, Mrs Cobham, Miss Patterson, Miss Smith and Miss Holliday
Posted by Mrs Fisher
Category: 10G
---
Leave a Reply